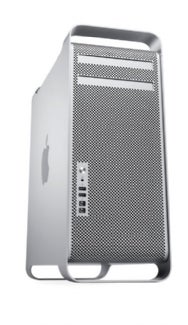 Ardent users are clamoring for quick upgrades to Apple's Mac Pro, while an unstable hardware timetable for the high-end desktop has raised concerns about the company's commitment to professional users.
The Mac Pro was last upgraded in July 2010, when Apple announced models with up to 12 processing cores based on Intel's Xeon server chips. Mac Pro users now want the models upgraded to Intel's recently announced Xeon E5-2600 chips to keep up with the increased horsepower required for tasks like video editing.
Apple's popularity has surged in the last few years with iconic consumer products like the iPad and iPhone, and shipments of Mac computers are also growing. But Mac Pro desktops, which are largely aimed at creative professionals, are quickly becoming obsolete. Some users have moved over to iMacs with the latest Intel Core processors, which in some cases outperforms Mac Pros.
As Apple gravitates to the consumer market, the lack of a Mac Pro upgrade has also raised questions about the company's hardware and software commitment to professional users. Apple killed the Xserve server in late 2010 because the product sold in low quantities. Mac Pros ultimately took on the additional responsibility of being servers.
But users hope the top-end Mac Pro desktops live on and get at least one more upgrade to Intel's latest Xeon E5-2600 chips, which have up to eight processor cores and PCI-Express 3.0 support. A dual-socket Mac Pro based on the new chips with 16 processors could potentially outperform iMacs and store more data.
Apple has not announced plans for a new Mac Pro. The company does not comment on future products, a company spokeswoman said.
Apple still has a big audience of creative professionals waiting for a Mac Pro upgrade, said Gary Huff, founder of Rusty Auto Productions in Austin, Texas.